EXPRESS TRANSPORTATION
You haven't got much time? We offer you reliable express transportation adjusted to your specific needs.

NON-STANDARD
DEMANDS
Delivery with a lift-equipped car or customs clearance are not a problem for us. If you have any specific requirements, you are in the right place.

NOT ALL SOLUTIONS ARE UNIVERSAL
Our flexible solutions are essentially different from the ones offered by the "big players" on the market. We focus on solutions that are best for you. This is our everyday motto.

YOU CAN TRUST US
We are the best partner in logistics you can possibly have. We know the answers to all your questions. We are at your disposal 24/7.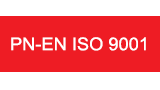 ISO CERTIFICATION
In August 2016 the prestigious certification agency ISOCERT confirmed the high quality of ESTE Logistics s.c. services that received its ISO 9001: 2009 certification for Quality Management.